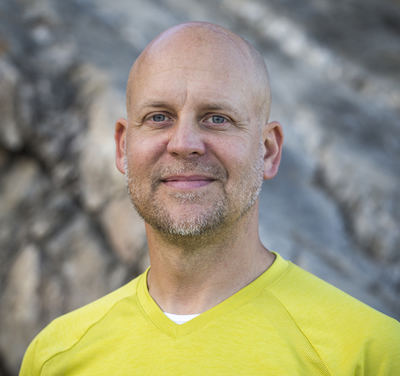 Jon Murphy joins RJ Yoga
Many RJ Yoga students will already know me, as my journey with yoga began with Richard. Once my goal in life was 'work to live', but after 20 years, work became destabilising, and my life-style was damaging. I reached a tipping point.
Feeling on the edge and knowing I needed big changes, I walked into the village yoga studio and found Richard. I told him I wasn't interested in 'all the mystical stuff' but he didn't ask to me leave. Instead he encouraged deep physical and mental changes helping to relieve the stress I was holding. The Yin Richard taught immediately connected with me. I knew my life was too Yang and I needed balance. We very quickly became close friends.
After several years taking Yoga seriously I hit reset, leaving my London job and retraining as a Yoga teacher. The course that hooked me was rooted in Zen Buddhism. As the son of a Vicar, I'd never bought into religion, so Zen's non-denominational, non-dualistic framework really hit the spot. The Zenways course was residential and intense, starting before sun rise, and lasting well into the night for two weeks, without a break. What we covered was a very broad view of Yogacara, developed by Julian Daizan Skinner who was the first Englishman to become a Rinzai Zen master in Japan and also travelled to India to study with a 90-year-old Sri Pattabhi Jois. In addition to Zen Yoga, which emphasises physical alignment, energy flow and mindfulness we practised Zazen, Nidra and a range of other techniques.
Ink still drying on my teaching certificate I was off on a South African sabbatical. I didn't have a plan, or even a visa. I just wanted to deepen my practise and practise lots of teaching. I started teaching groups of friends twice a week and also took on a class of young girls at a charity based in a local township. In a year just to be, I let go of goals and stopped seeing Yoga as a project to complete. I became aware of my whole self and started thinking how I could use techniques I was learning to improve everyday life. ZenYo was born.
I believe Yoga and meditation should bring relaxation, joy, energy and awareness into every moment of our lives, without requiring major adjustments to the way we live. I've also just added Yoga Nidra into the ZenYo mix after completing stage one iRest training. Yoga Nidra, or Yogic Sleep is a very ancient form of meditation that trains students to allow the body to sleep whilst surfing the different waves of consciousness. It's powerful and can have very positive impact on stress and anxiety, boost the immune system and help students come to terms with negative perceptions about themselves.
That's me and that's ZenYo. I teach yoga Friday evenings 6:45-8pm and Nidra on Sundays 6-7pm, both at my spiritual home of RJ YogaI look forward to seeing you at one of my classes.